LeathersInn – WordPress E-commerce Website Development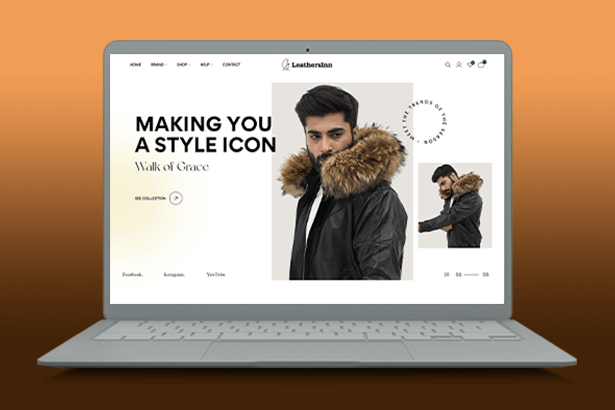 LeathersInn is a fashion-forward online store specializing in high-quality leather products. The client approached us with a vision to create a sophisticated and user-friendly e-commerce website that showcases their diverse range of leather goods, provides seamless shopping experiences, and integrates various advanced features as well as to robust online presence to expand their reach and drive online sales.. To achieve this, they partnered with CoderzHub, a web development and digital marketing agency known for its expertise in WordPress development and digital marketing.
Develop a WordPress-based e-commerce website that aligns with LeathersInn's brand identity.
Implement multiple advanced functionalities, such as email integration, cart and checkout systems, and product bundles.
Create an engaging and intuitive user experience to increase conversions and sales.
Ensure cross-browser compatibility and responsive design for various devices.
Sales Boost: Implement strategies to improve online sales and visibility through SEO optimization and social media engagement.
Design and Development: We designed a visually appealing and modern website for LeathersInn, emphasizing their products while maintaining a clean and user-friendly interface. The WordPress platform was chosen for its flexibility and ease of management. The following features were incorporated:
Property Listings: Displayed properties with various layout options, ensuring an attractive presentation of real estate offerings.data to support the design process
Property Detail Pages: Customized property detail pages provided comprehensive information, multimedia elements, and interactive features to engage potential buyers.
Property Galleries and Media: Integrated image galleries, videos, and 360-degree virtual tours to provide an immersive property exploration experience.
Mortgage Calculator: Integrated a mortgage calculator for user convenience and financial planning.
Property Features: Displayed detailed property features and specifications for informed decision-making.
Developed dedicated pages for categories, products, and detailed product descriptions, ensuring easy navigation for users.
2. Advanced Product Features
Product Swatches: Implemented color and material swatches for products, allowing customers to view different options.
Product Badge: Added badges to highlight special offers, new arrivals, and bestselling products.
Product Bundles: Enabled customers to purchase product bundles at discounted prices.
Product Video Gallery: Integrated a video gallery for product demonstrations and close-up views.
Product Quantity Discount and Select: Set up quantity-based discounts and selection options for enhanced purchasing flexibility.
Product Frequently Bought Together: Suggested complementary products to boost upselling.
3. User Experience Enhancements
Flying Cart: Created a floating cart that dynamically updates as items are added.
Hover Styles: Incorporated product image zoom and hover effects for better visual engagement.
Wishlist: Implemented a wishlist functionality for users to save their favorite items for future reference.
Catalog Mode: Offered the option to switch to catalog mode for browsing without purchasing.
Direct Browse Lookbook: Allowed users to explore collections and lookbooks directly.
Multi-currency Switcher: Enabled visitors to view prices in their preferred currency.
WPML Compatibility: Facilitated site translation for a multilingual audience.
5. Performance and Security
Retina Ready and Responsive Design: Ensured the website displayed perfectly on various devices and screen sizes.
Cross-browser Compatibility: Optimized the website for compatibility with major browsers.
GDPR Compliant Theme: Implemented necessary privacy features to comply with GDPR regulations.
GDPR Compliant Theme: Implemented necessary privacy features to comply with GDPR regulations.
6. Marketing and Engagement
Social Sharing: Integrated social media sharing buttons to encourage customers to share products.
MailChimp Integration: Integrated MailChimp for email marketing campaigns and newsletters.
Contact Form 7 Compatibility: Provided a user-friendly contact form for customer inquiries.
7. Visual Appeal and Customization
Unlimited Color Schemes: Offered various color schemes to match LeathersInn's branding.
Typography Options and Google Fonts: Customized fonts and typography for a cohesive visual identity.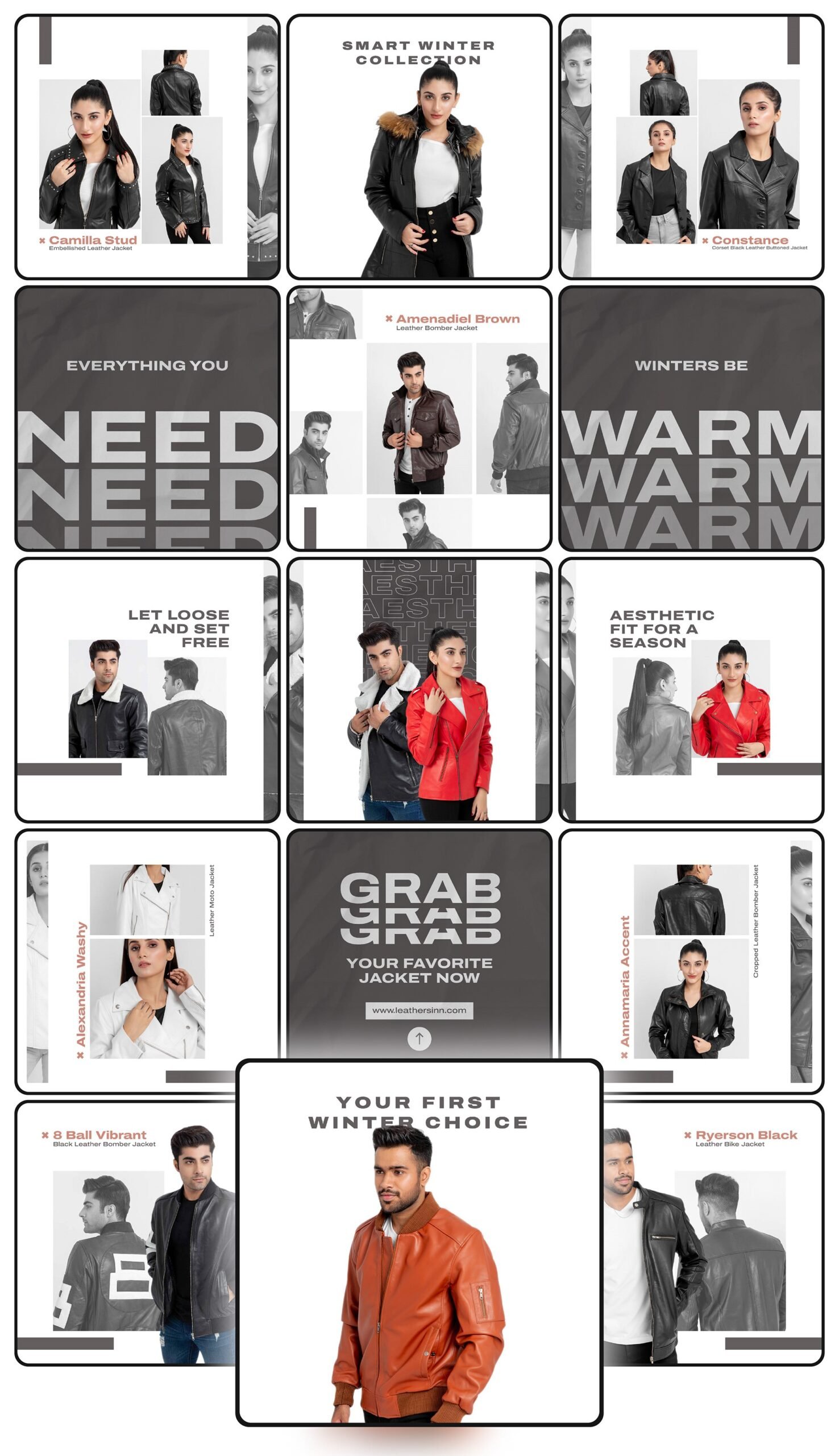 SEO Optimization and Social Media Engagement
Search Engine Optimization: CoderzHub conducted thorough SEO analysis and optimization, including keyword research, on-page optimization, and metadata enhancement.
Social Media Design: Created visually appealing social media posts showcasing LeathersInn's products to boost online visibility and engagement.
LeathersInn's new WordPress e-commerce website successfully met their goals and exceeded expectations. The integration of advanced features, visually appealing design, and user-friendly interface led to improved customer engagement, increased sales, and positive user feedback. The website's responsiveness, compatibility with various devices and browsers, and multilingual support contributed to a wider reach and better user experiences. Through the collaborative efforts of LeathersInn and CoderzHub, the project yielded significant positive outcomes:
Enhanced User Experience: The advanced features improved user engagement and led to a higher conversion rate.
Global Reach: Multi-currency support and site translation attracted an international audience, expanding LeathersInn's customer base.
Online Sales Growth: The optimized website and improved user experience contributed to a notable increase in online sales.
Improved Visibility: The SEO optimization efforts resulted in higher search engine rankings, driving organic traffic to the website.
Social Media Engagement: Visually appealing social media posts increased brand awareness and engagement, further boosting online sales
LeathersInn continues to collaborate with us for ongoing maintenance, updates, and potential expansion of features. They are considering further marketing initiatives, such as implementing a sales countdown timer, expanding their social media presence, and exploring new partnerships to enhance their online presence and revenue.
This case study highlights the successful collaboration between LeathersInn and our development team to create an exceptional online shopping experience that aligns with the brand's vision and objectives.
Through meticulous WordPress development, SEO optimization, and strategic social media engagement, LeathersInn achieved a remarkable online transformation. The new website, enriched with advanced features, significantly elevated user experience and sales performance. CoderzHub's expertise facilitated a seamless connection between a sophisticated website and a dynamic digital marketing strategy, culminating in LeathersInn's enhanced online presence and thriving e-commerce success.